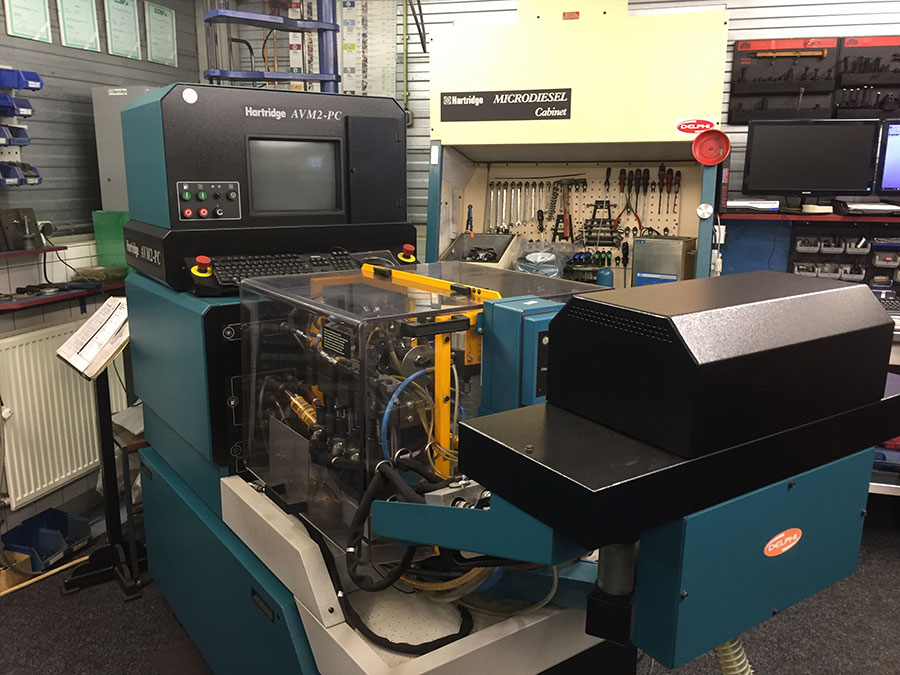 Hartridge AVM2-PC 20/12 diesel fuel pump test stand
The Hartridge AVM2-PC 20/12 Test Stand is an advanced personal computer based diesel fuel pump test stand. It can save you as much as 50% of the time it takes to use another test bench.
MAINE FEATURES
Flexible with Hartridge accessories – can test in-line, Rotary, Common Rail pumps and EUI, EUP and Common Rail Injectors
PC with Windows™ operating system
Pressure phasing to 80 bar
Anti-Backlash Coupling
Two variable DC supplies (0-24V @ 3 amp)
Cooled metering unit
Back leakage temperature measurement at pump outlet
Auxiliary socket for external calibrator control and point of injection sensors
Analogue speed trim for fine control of governors
Digital pressure displays
Drive "nudge" control
Auto Step test plan editor and execution
Compact dimensions compared with other machines
12 or 8 cylinder advanced video metering
20 hp (15 kW) DC high torque motor
1.8kgm2 (43Ibft2) flywheel
Display of pump output and test stand operating data via 15" TFT
Hartridge AVM2-PC 20/12
The secret of the Hartridge AVM2-PC 20/12 is in its ease of use. Although it is a sophisticated piece of equipment, it allows the operator to use the test stand quickly, so you can potentially test more diesel pumps using the Hartridge AVM2-PC 20/12 than you could using another test stand system. Combined with the ability to test "All Makes" of fuel injection equipment, the Hartridge AVM2-PC 20/12 becomes the obvious choice.
Safety and Ergonomics
Safety has, of course, been of prime consideration when designing the Hartridge AVM2-PC 20/12. The flywheel is fully enclosed and the electrical components are fully guarded within the electrical cabinet. The emergency stop switches are accessible from both sides of the machine and operate through a failsafe relay.
Benefits
User friendly
Industry standard PC allows expansion
Connection possible to network or modem (e.g. for sharing test plan information or a results database between several machines)
Approved and recommended by Delphi, Denso, Siemens and Stanadyne
Additional Accessories
Lube oil supply (Kit No. HB352)
Dynamic phasing (Kit No. HB372W)
Digital rack (Kit No. HB351)
Turbo boost (Kit No. HB350)
Digital advance (Kit No. HB346)
Common Rail
Common Rail Base Kit (Kit No. HB378)
Common Rail Pump test controller (Kit No. HF1130)
Common Rail Pump test application kits
Common Rail Injector Base Kit (Kit No.HK900)
Common Rail Injector application kits

Safety Notice
"This product has the ability to test piezo-electric coils which require fast acting high voltage levels to excite the piezo stack. Although Hartridge has designed the product to comply with the low voltage and electro-magnetic compatibility (EMC) directives, which is a requirement of the CE marking directive, there is a risk that some electrically sensitive devices could be impacted. Therefore, Hartridge recommends that this equipment should not be utilised by persons who are fitted with a pacemaker or similar heart support equipment."